The WCC's recent embellishing of our streets converting signposts into cycling hitching posts has prompted me to wonder what a city might be like if it was truely cycling-centric.
The obvious place to start is street furniture, and cycling parks are increasingly incorporating the pragmatics of parking into more artistic and creative efforts. Examples include: a bike stand, Via Padova, Milan, Italy
A couple of fish at Riverwalk, Truckee River, Reno, NV, and Ryan Sylvester's Paonia River Park bike rack.
"Tactil bicycle rack," Santa & Cole, Barcelona
Perhaps less obvious is the rage to incorporate bike parks into planter boxes, and vice versa:  These include using planters to chain bikes up to (e.g. "Plantlock" by Front Yard, and Grenville Street Furniture by ASPECT Studios), and the more mobile thinking of urban garden by A4A Rivolta Savioni studio, Expo Gate Milano.
But it's not just planters hybridising with bike parking.  There's a huge range of public seats combined with bike racks in street furniture.  Examples include "Piano Park Bench" (ADD Innovation) and …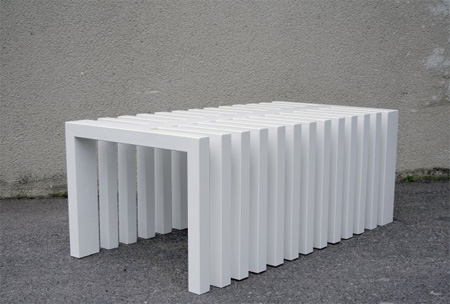 … the less elegantly named "Dual use bench + bike," Function First's "Park 'n Sit" bench, …
… Nikola Kungulovski's "Parametric bike stand," and Bike Arc by Jeff Selzer and Joseph Bellomo (also Rac Arc, Umbrella Arc, and House Arc, etc. )
But of course there's tables too, for cafes and picnics: various versions of "Pit In" (2006) from Japan-based Store MUU …
… and Velokafi (cyclist "drive-in"), Zurich, Switzerland, installed April 2013
and LOL bike's "Picnic"
… but finally a bit of brilliant civic-scaled madness from Manifesto Architecture: vertical rotating bike parking for Seoul, South Korea
Tags: A4A Rivolta Savioni studio, ADD Innovation, ASPECT Studios, Barcelona, Bike Arc, bike parking, bike rack, cycle parking, Expo Gate Milano, Front Yard, Grenville Street Furniture, House Arc, Japan, Jeff Selzer, Joseph Bellomo, LOL bike, Manifesto Architecture, Milan, Nikola Kungulovski, Paonia River Park, Parametric bike stand, Park ' Sit, Piano Park Bence, Picnic, Pit In, Plantlock, Rac Arc, Ryan Sylvester, Santa & Cole, Seoul, South Korea, Store MUU, street furniture, Switzerland, Tactile bicycle rack, Truckee River, Umbrella Arc, Velokafi, Via Padova, Zurich