The Gordon Wilson Flats on The Terrace are under threat, with their current owner (Victoria University of Wellington) requesting that the Wellington City Council remove the building from the District Plan Heritage List.  The aim of this is to facilitate the building's demolition.
The flats are pretty unique in New Zealand.  They were completed in 1959, the same year that Gordon Wilson – the then government architect – died, and it appears as if they were designed in conjunction with the Grey's Avenue Flats in Auckland.  The 1954 Annual Report of the Director of Housing, for example, noted that:
"A site on Wellington Terrace is planned to accommodate a ten-story block containing 81 flats, and a similar building is planned for erection in Grey's Avenue, Auckland. Working drawings for these flats are now in the course of preparation, and it is expected that tenders will be called in September or October this year."
Dixon Street Flats
It appears that the original designs though are earlier than 1954.  Shaw refers to Ernst Plischke's Dixon Street Flats design being "further adapted for the Gordon Wilson Flats on the Terrace."  It is likely that this initial adaption occurred prior to the election of the first National Government in 1949, and Gatley records that the GW Flats were "redesigned under the National Government," and that the Grey's Avenue Flats were redesigned to "reflect technological developments."  Her most interesting observation is a suggestion that the facade may have been redesigned to distinguish National government social housing architecture, from the preceding work of the first Labour government, who built 13 medium- and high-density blocks of state housing.  She proposes that "It may have been that National wanted to avoid the aesthetic associated with Labour."  This makes the Gordon Wilson Flats and Grey's Avenue Flats a rare example in New Zealand where the specific design of an architectural facade engaged with politics in the narrow sense of the word.
Unlike Grey's Avenue Flats, Gordon Wilson Flats was redesigned a further time in an attempt to reduce costs, following tenders being received, and it appears that this resulted in changes to the foundation system.
Grey's Avenue Flats, Auckland
There are at least two significant design differences between the Dixon Street Flats and the Gordon Wilson Flats (and the Grey's Avenue Flats).  These are the facade – which contrasts Dixon Street Flats' monolithic concrete – and the maisonette plan.  As Bill Alington has noted, Plischke was more interested in form.  The Gordon Wilson Flats elevation greatly differs to Plischke's sculpting of form at Dixon Street, as the Gordon Wilson Flats' structure and planning both become legible in the facade design.  The two-storey maisonette interior determines the modular of the exterior facade, and this repeating unit constructs the building's elevation.
Unite d'Habitation, Marseille
The origin of the Gordon Wilson Flats' maisonette flat is frequently attributed to Le Corbusier's Unite d'Habitaiton, Marseille (1947-52), which like the GW Flats has a clearly readable maisonette modular.  This origin is not strictly correct.  Instead it is the London County Council social housing (for example, Alton West, Roehampton (1958-59)), built under Robert Matthew, which is the more direct connection.
Alton Estate, Roehampton
Gordon Wilson had a very close relationship with Robert Matthew.  Bill Alington, for example, was recommended to Matthew by Wilson.  Wilson appears to be in regular communication with Matthew, including according to a number of Wilson's obituaries travelling to London "yet again … in consultation with Professor Robert H. Matthew on the design for New Zealand House in London" in 1957, when Gordon Wilson Flats and Grey's Avenue Flats and Alton West were all under construction.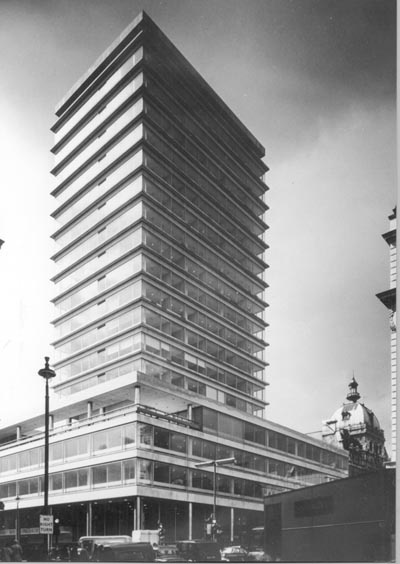 New Zealand House, London
The maisonette plan does not appear to have been popular in New Zealand.  Though another building contemporary with Gordon Wilson Flats – Hazel Court in Mount Victoria by Treadwell and Wild – has maisonette flats in its top floors.  Wilson, Treadwell and Wild were all members of the Architectural Centre.  Another Architectural Centre member, Friedrich Neumann, the architect of Roxburgh and Maraetai hydro-dams, proposed in 1959 that high-rise maisonettes had the promise to be key to New Zealand's future housing, but these does not appear to have occurred.
Grey's Avenue Flats, Grey's Avenue, Auckland
Gordon Wilson Flats, The Terrace, Wellington
The Architectural Centre submission to the Plan Change 81 hearing can be found at: http://architecture.org.nz/wp-content/uploads/2013/06/Architectural-Centre-DPC-81-Outline-of-submissions.pdf
Tags: 320 The Terrace, Alan Wild, Anthony Treadwell, Architectural Centre, Bill Alington, Dixon Street Flats, Ernst Plischke, Frederick Newman, Friedrich Neumann, Gordon Wilson, Gordon Wilson Flats, Gordon Wilson Memorial, Grey's Avenue Flats, Hazelcourt, Julia Gatley, London County Council, maisonette, Maraetai hydro-dam, Robert Matthew, Roxburgh hydro-dam, Tony Treadwell, Victoria University of Wellington, Wellington City Council Flats