I am one of those achronistic beings who doesn't wear a watch, and doesn't own a cell-phone. This perhaps means I have become particularly aware of the urban accessorizing, from which I often try to glean the time or a phone call from, which has undergone huge changes over the last 10-15 years in New Zealand cities.
These civic conveniences (the public telephone, clock, toilet etc.) are signs that we, as citizens, are explicitly considered in public spaces, and where we become dependent on our cities as providers of communal facilitation.   Over recent years it seems that telephone boxes, clocks, and letter boxes have reduced significantly in number – no doubt increasing cell-phone technology and ownership have rendered these once public needs quite literally into the portable appliances of individuality.
For a moment I thought that the streetlight, the public toilet, and the bus shelter might have to go it alone as signifiers that our city cares about its inhabitants, but a little more thinking suggests that, rather than a simple diminishing of artefacts supporting public convenience, new urban accessories are slowly appearing in Wellington streets.
The carpark is very very slowly (despite stubborn resistance) being exchanged for bike parks and bike paths, wind and rain shelters (permanent umbrellas) have appeared on particularly weather-vulnerable street corners, and graffiti walls (an ambivalent concept) have become a near staple for public parks. Thanks to the Civic Sculpture Trust, public sculpture plays an increasingly pleasureable role in the shaping of our city.
Perhaps more interesting are those public facilities provided by local businesses – from ATMs to coffee carts.
Children's high chairs in restaurants and cafes reflect that children can now be seen and heard, but my favourite must be the dog watering bowl next to the Dibble sculpture at the renewed Moore Wilson's on College Street.
But often these conveniences can appear to operate in a default mode; elegant but safe.  There's surely plenty of room for some challenging avant-gardism here.  Take this transparent public toilet from Lausanne, Switzerland, for example …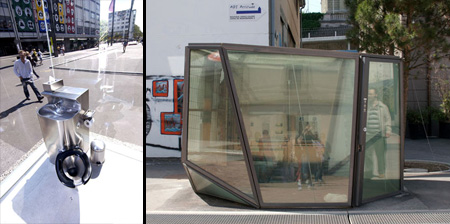 Tags: ATMs, bike lanes, bike parks, bike paths, bus shelters, bus stops, cellphones, clocks, coffee carts, graffiti walls, Lausanne, mobile phones, Moore Wilson's, Paul Dibble, public toilets, sculpture, streetlights, Swittzerland, telephone boxes, urban accessories, urban accessory, Wellington Sculpture Trust