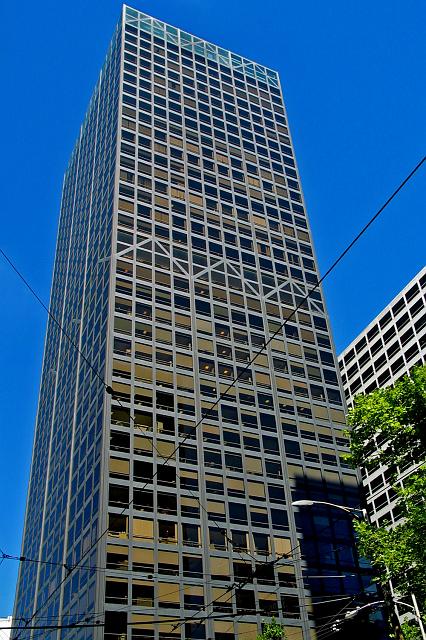 140 William Street (formerly BHP House), Melbourne, Australia
Architect: Yuncken Freeman, Skidmore Owings & Merril, 1967
Ok, so this one is probably more widely 'known' than the previous example that I raised of international works of architecture that bear strong resemblance to buildings that we might find on our own Wellington streets, but it is worth refreshing our memories nevertheless.
Construction of BHP House in Melbourne began in 1967, with the building opening in 1972. While our own example was begun 2 years later in 1974, it famously wasn't finished until 1984 – not exactly the fault of the architecture, but it sure had an impact on its reception – a brand spanking new high-rise in the mid-80s, of a mid-60s design.
I actually think our own one is nicer, with better proportions in the details, but that could just be familiarity speaking. But what is intriguing (well, to me at least), is that the Melbourne building is registered as a heritage building, and protected accordingly by Victorian state law; who's game enough to prepare a heritage listing report for its Wellington cousin?
Tags: Australia, BHP House, BNZ Centre, Melbourne, Similarity Files, SOM, Stephenson & Turner, Yuncken Freeman