The culinary seems to be passé, with both the Arch Centre and the FishEye seeing fit to blog on food and design in recent days. Today though it's bad taste, rather than taste, which appears to be de rigor.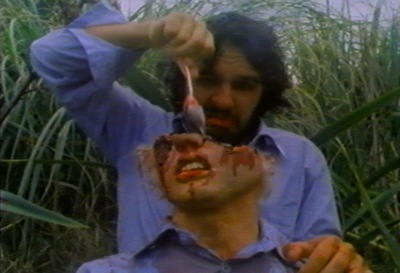 Peter Jackson's 1987 cult classic, Bad Taste, while being "purely vulgar trash," "brain splattering," and "repulsive gore," can now be acknowledged, thanks to critical aclaim and marginal high culture, as a "great film." It has reached the height of cult classic – but you still need a cast-iron stomach to watch it.
But Bad Taste, other splatter films, and cringe TV, might only be the tip of the proverbial ice-berg of bad taste invading the inner sanctums of New Zealand's domestic spaces. Looking through NZ real estate websites provides opportunity aplenty to see the dubious nature of our nation's decorating skills at play in many a local home. How does it happen? Can BigSave furniture and WWB's gib board really be to blame? Do these people see the elegant lines architects provide and have some kind of violent reaction to them? Or are we a nation with interior bad taste?
A few examples, as they say, may prove instructive. Let's stick to the work of a couple of Wellington architects …
Ernst Plischke was a renown Modernist, but he lived in a villa – is this why a resident of his houses can redecorate and furnish with a pseudo-jungle theme … ?
Edmund Anscombe was an uncompromising popularist, but he was pretty keen on the basics relating to scale and proportion. Would he be turning in his grave, over this mis-understanding of "spaciousness," if he had a celestial internet connection … ?
Kitchens and Bathrooms seem particularly vunerable to bad taste, giving the both kitset and tiles bad reputations.
There is no question that how you decorate and furnish your own home is your own business, but looking through many real estate images it is patently clear that the taste of the nation conforms with gib board banality, rather than the strictures of high (or even medium) architecture. Is this lack of taste?, lack of good furniture stores? or how it should be?
While some find Jackson's Bad Taste stomach-turning, for me it's the listless mediocrity of lazy proportions and easy-chairs which rent the core of my inner being. While one observer of Jackson's Bad Taste lists one lesson from the film as "Vomit is delicious." For me, the architectural equivalent is no less easy to stomach.