He might not be well-known, but if he was it would be for the design of the Freyberg Pool (1963). But Jason Lewis Francis Smith (1917-1964), who was born in Wellington, India, only to end up working in Wellington, New Zealand, was "closely associated with," as his NZIAJ obitutary so delicately puts it, with several other large and significant Wellington buildings.
Alliance Assurance Building (1964)
He worked for the Ministry of Works before moving to King & Dawson, and was involved in designing: the Police Barracks, Buckle St; the Alliance Assurance Building, Featherston St; the Apple and Pear Marketing Board Building, Cambridge Tce, as well as St Francis de Sale in Island Bay.
The "axial" approach to St Francis, Adelaide Road; the steeple of St Francis in the distance
The building was one of three Catholic churches he was working on when he died suddenly, in 1964, in his forties.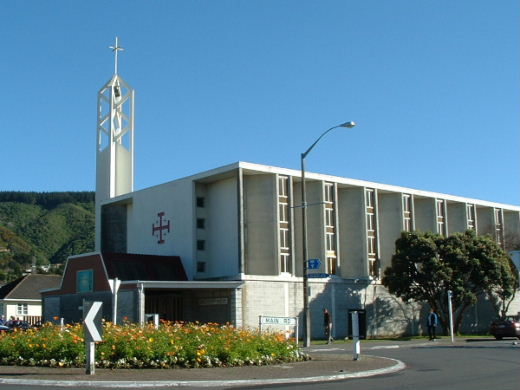 Our Lady of Fatima, Tawa
St Theresa, Karori
At the time St Francis was going out to tender, a Tawa church was also nearly ready for tender, and the Karori church was in the preliminary design stage.  But it's St Francis, with its judicious white curves, which re-asserts the understated flamboyance of the Freyberg Pools.  Like quite a few of Wellington's finer buildings it's well hidden and under appreciated in the suburbs.
St Francis de Sales, Island Bay
Tags: Alliance Assurance Building, Apple and Pear Marketing Board Building, church architecture, Freyberg Pool, Freyberg Tepid Pool, Island Bay, Jason Lewis Francis Smith, Jason Smith, King & Dawson, King and Dawson, Police Barracks, St Francis, St Francis de Sale