Tuesday, September 20th, 2016
When did "modernist" work start and finish?  What were its beginnings?  Did it end upon the inception of the International Style?  Is "modernist" work framed in the works of Gropius, Mies, Corbusier, Behrens, Wright, and so on?  Did not the modern movement stir in c.1830 C.E. and end in c.1933 C.E.?
Do the works of Gordon Drake in San Francisco Bay area carry concern for social wellness; concern for structure needs; concern for the wondrous traditional timber work of the Bay area; concern for human daily needs; concern for climatic conditions; concern for topography; concern for siting; concern for low cost; concern for local ecosystems; concern for the seven commons interactions; concern for elegance of relationships; their rightness?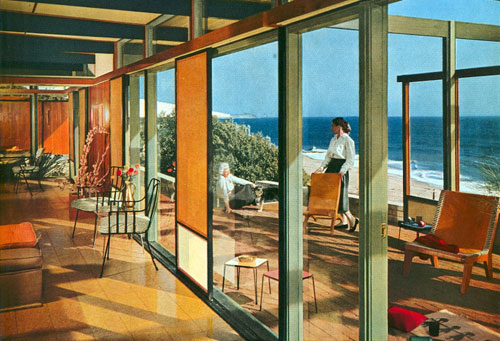 Gordon Drake's houses meet many concerns.  Does "modernist work" meet the concerns? Is not Gordon Drake's work an example of the flourishing of the modern movement?  Are not Brunelleschi's Pazzi Chapel and St. Basil Cathedral, Red Square, significant expressions of their cultural times, their social attitudes, their control mechanisms? …
James Beard (September 2016)
The "My favourite modernist building …" series is in support of Gordon Wilson Flats which is facing threat of demolition.
Posted under: Architectural History, Heritage, Heritage Buildings, HISTORY | Comments Off on My favourite modernist building … Gordon Drake's houses